The following list was created by by Scott Kustes over at
Modern Forager
and posted on January 1, 2008, to serve as a reminder to all about the importance of healthy eating and adopting a balanced lifestyle.
Though we're already halfway through the year, it's never too late to take these pointers to heart and incorporate them into everyday life. There's no better time than the present!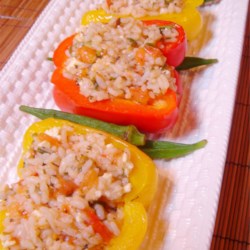 On tonight's healthy menu: Stuffed Peppers
***
Ten Things to Remember In The New Year
1. Junk food doesn't exist; there is junk and there is food.
2. Similarly, real food has no nutrition label. Food products have nutrition labels.
3. If a label tells you how healthful the product inside is, it's probably not. Don't be deceived by marketing.
4. Sugar is detrimental to your body in more ways than you can count.
5. Organic/natural junk is still junk. Thirty grams of sugar from honey is not more healthful than 30g of sugar from other sources.
6. If you are wondering if you should eat more vegetables, the answer is yes. I don't care how many you eat, you should probably eat more.
7. Similarly, you should probably sleep more. Turn off the TV and go to bed. Given the quality of most TV programming, you aren't going to miss anything of importance.
8. Don't let "I can't afford organic" keep you from eating enough produce. Organic vegetables are best. However, eating conventional is better than not eating produce at all.
9. You're human and you will eat something too sugary and too carby. Don't stress; just get back on the wagon.
10. And finally: health is a lifelong journey, not a quick-fix. Find something you can stick with.
***
I particularly like #9. All too often we adopt an all-or-nothing stance when it comes to healthy eating, which makes it easy to fall off the wagon entirely, and completely blow our carefully-plotted nutrition plans in a single moment of folly. Relax, we're only human, and mistakes happen.
I guess the important thing is not to be suckered into thinking that one cupcake proves entirely damning to your pursuit of a healthy lifestyle. Cripes, you've already eaten it - moping isn't going to magically dissipate the calories, and further binging doesn't help matters any - you might as well polish off the crumbs, lick your lips, and get right back on track!
Image courtesy of
AllRecipes.Com
.